BLACKHOLE RUS (Steam Gift)
YOU WILL BE PROVIDED WITH OUR GAMEPYRO APPLICATION WHICH WILL ALLOW YOU TO EASILY ACTIVATE AND PLAY THE GAME WITH NO RESTRICTIONS.
Become a hero and discover the secrets hidden in a mysterious Entity. The world inside the black hole is waiting for you to explore it!

When the crew of a spaceship called Endera is sucked into a black hole, it seems like it is the end. Fortunately, the ship crashes on Entity; an object resembling a planet. After the crash, the first member to wake up is the guy who made coffee for the crew. He discovers a copied artificial intelligence of the ship, Auriel, on his PDA. Together, they come up with a plan on how to fix their spaceship, save the survivors of the crew and become heroes of the planet Earth by shutting the black hole once and for all.
Features:
Amazing places:
Explore the colourful caves, a lost city of an ancient civilization, reach the skies in the Entity of huge mountains and have no fear to pass through a living jungle. Every step you make will be worth it!
Change the gravity:
Levels are designed in a unique way; turn the gravity in four different directions and reach places you had no chance to reach before. Every level is the same as the other four and it is only up to you to choose the best way in completing your quests.
Beat the time:
Your time in each level is recorded. You can share it with your friends afterwards. Find the fastest way to complete the level and earn the top spot in global charts.
Full English voices:
This space comedy, narrated by the best voice actors, can begin! Kind help from the director Chris Niosi absolutely diversifies this game from other games in the genre. The lines and dialogues are based on the greatly diverse character personalities! Starring: Mark Whitten, Blake Swift, Kira Buckland, Edwyn Tiong, Anthony Sardinha, Martin Billany, Devon Talbott, River Kanoff, Marissa Lenti and more!
Captivating soundtrack:
Made by composers Jakub Miřejovský and Jan Ševčík. Enjoy listening to strong melodies. Rhytmic drums, dynamic dubstep and fairytale orchestra will not keep you calm.
Logic puzzles, action minigames:
Pass through all the tricky traps and discover all the hidden secrets behind closing black holes.
2D graphics in FULL HD:
Animations and all the graphics are hand painted. Everything is prepared for the best gaming experience in steady 50 frames per second! Turn the world, laugh and compete for the best times in beautiful full HD graphics!
Digital STEAM Collector's Edition: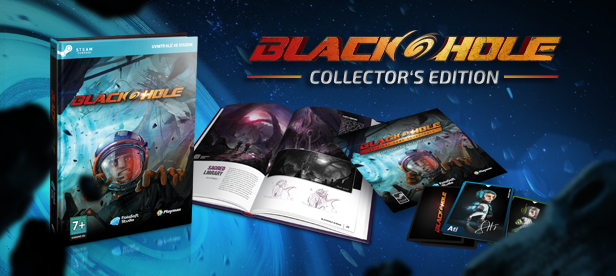 Blackhole's Digital STEAM Collector's Edition includes the game itself, an official soundtrack, a digital release of the artbook in English and Czech, a special digital signed cards by Czech actors and an upcoming DLC: Testing Laboratory. More bonuses to come with free updates.

Please note: DLC Testing Laboratory will be available in April 2015.
Minimum:
OS: Windows Vista / Windows 7 / Windows 8.1

Processor: Intel Pentium IV 3 Ghz / AMD Athlon64 3000+

Memory: 2 GB RAM

Graphics: 512 MB / GeForce GTxxx or AMD similar

DirectX: Version 9.0c

Hard Drive: 2 GB available space

Sound Card: Compatible with DirectX®: 9.0c

Additional Notes: Warning: Laptop graphics card are not supported, but may be functional
Recommended:
OS: Windows Vista SP2 / Windows 7 SP1 / Windows 8 SP1

Processor: Intel Core i5 2.5 GHz or AMD similar

Memory: 2 GB RAM

Graphics: 1GB nVidia GTX 560Ti or higher (similar AMD chip, or Intel chip)

DirectX: Version 9.0c

Network: Broadband Internet connection

Hard Drive: 2 GB available space

Sound Card: Compatible with DirectX®: 9.0c

Additional Notes: Recommended Xbox 360® Controller for Windows
There have been no reviews
Sellers
Seller rating
Region
Price
Credit