30%
Developer:

Kerberos Productions Inc.

Genres:

Action, Casual, Indie, RTS

Languages:

EN

Official website:

http://kaiju-a-gogo.com/

As our way of saying thanks to everyone who supported our crowdfunding efforts, or who are early adopters of the game, we will be adding not one, but TWO additional creatures in the next few months; the Chlorophyll Creeper, Shrubby and the Massive Mutant, Armagordon!

If you have a copy of the game prior to these monstrous additions they will be added to your game automatically as an update. Otherwise, as monsters take care and attention to create, each monster will be reflected by the addition of a mere dollar to the game price - once the third Kaiju is added the game will be at its full price point. So the earlier you jump in and start stomping cities, the better!

And stay tuned for exclusive, alternate monster skins, so you can crush, crumble and vamp!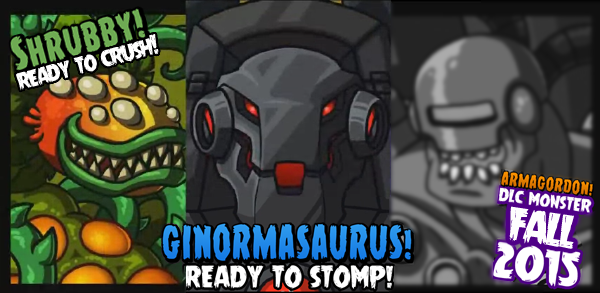 Kaiju-a-gogo is a strategy/action title featuring GIANT MONSTERS. The player takes on the role of a fledgling Mad Scientist who has built the first human-controlled Kaiju in the world. While your rivals race to catch up with your genius and build their own Kaiju to compete with you, you have a five-year-window to use your Kaiju to achieve TOTAL WORLD DOMINATION.

Start off the game Mad Scientist Dr. Norman E. Farious and his Kaiju creation, Ginormasaurus! You will then start play at your Secret Lair, an uncharted island, and launch your first attacks upon the unsuspecting world. As you crush city after city with your magnificent creation, the resistance of the people in that region will weaken, until eventually they bow to the inevitable and admit that you're in charge. When you have conquered all of the regions on the globe, you win! You are the world's supreme dictator and number one monkey. Simple as that.
Minimum:
OS: Windows 7

Processor: Intel Pentium 2 GHz or equivalent

Memory: 4 GB RAM

Graphics: 1 GB Open GL compatible card

Storage: 1 GB available space

Sound Card: Any Windows compatible sound device
Recommended:
Processor: Intel Pentium 2.3 GHz or equivalent

Storage: 2 GB available space
There have been no reviews
Sellers
Seller rating
Region
Price
Credit