Steam Bandits: Outpost (Explorer's Equipment Pack) (STEAM)
Activation details
70%
Steam Bandits: Outpost (Explorer's Equipment Pack) (STEAM)
Pegi info
Add review
In
Steam Bandits: Outpost,
you play as the newly-hired skyrunner of a burgeoning trade outpost in the floating world of Stratos. It's up to you to manage your outpost and assemble your party to explore the furthest reaches of the skies. Armed with only a handful of gold, your dashing good looks, and a kindly clockbot assistant, you'll run into obstacles and misadventure, but success will earn you a place as one of the wealthiest, most stylish denizens of Stratos. Fortune favors the bold!
Known Issues in This Phase
Bugs. Definitely bugs.

No pathing for NPC/Monsters except random wandering.

No full tutorial.

Lack of some sounds.

Combat needs improvement.

Minimal variety of weapons/ships/monsters.

Ability diversity for normal attacks, no buff/debuff spells.

GUI for captain missions.

GUI systems for crafting.

No Encyclopedia (Button still in-game).

No Social (Button still in-game).

Many clothing assets are simply Captain Equipment..

Requires Steam Bandits account to play (no guest mode yet)
Also, there will be character wipes every few months.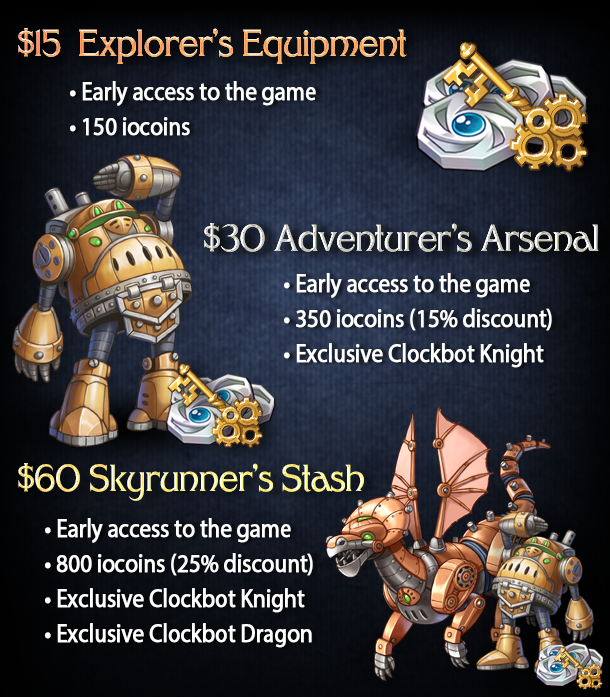 Alpha v2 - June
Tier2 Content

All Backer Captains

Color dyes/paints

T1-3 Captain Missions

More combat abilities

Multi-monster combat

Lots of combat updates

UI updates
Closed Beta - August
Tier3 Content

Dungeons/Interiors

Social stuff like friending players, visiting their islands, and social rewards

(More details later)
Open Beta - Sept/Oct
Companion party combat

Berry farming

(More details later)
Launch - Oct/Nov
Absolutely no bugs

(More details later)
Expansion1 - 2015
Tier4 Content

Northlands areas

(More details later)
Expansion2 - 2015
Tier5 Content

Pirate bases

PvP!!!

(More details later)

While traversing the world of Stratos, you will:
Explore a world filled with exciting adventures!

Recruit airship captains on your path to fortune and glory.

Engage in combat against pirates and fierce creatures.

Customize your character and outpost with thousands of combinations.

Collect tons of unique companions.

Show off your outpost to friends and strangers.

Build several outposts in exotic locations.

Much more will be announced soon!

Steam Bandits: Outpost
brings a new outlook to casual games.
The first and most important thing to know is that you will never have to expect to "pay to win," nor will you ever have to bother your friends to progress through the game. You can play as long or as little as you want without having to beg for help.
You'll be exploring the world and embarking on story-driven quests. At any given time, you may find yourself harvesting the fruitful crop of your outpost, or taking on jobs from NPCs visiting your island in the sky. Utilizing our cloud-based system, you can play on desktop, tablet, and mobile devices during a single gameplay session.
We at Iocaine Studios want you to view Steam Bandits as more than just a free-to-play game; we want you to truly feel that you belong with us among the clouds.

Stratos
Stratos is a world of floating islands, fragmented and strewn across a seemingly-infinite sea of clouds. Although it is unknown whether it has always been this way or whether the islands were once a part of something far below, Stratians are well-adapted to their setting. Societies have been established on the largest of the sky islands, and their peoples have learned to use flox--the very mineral that keeps their world afloat--and other natural resources to their advantage.
PC System Requirements
Minimum:


OS: Windows XP SP2 or later

Processor: 1.6Ghz or Higher

Memory: 1 GB RAM

Graphics: OpenGL 2.0 compatible video card with 256 MB shared or dedicated RAM (ATI or NVIDIA)

DirectX: Version 9.0c

Hard Drive: 700 MB available space
Mac System Requirements
Minimum:


OS: 10.6 Snow Leopard or later

Processor: Intel Mac

Memory: 1 GB RAM

Graphics: OpenGL 2.0 compatible video card with 256 MB shared or dedicated RAM (ATI or NVIDIA)

Hard Drive: 700 MB available space
Linux System Requirements
Minimum:


OS: Ubuntu 12.04 or later

Processor: 1.6Ghz or Higher

Memory: 1 GB RAM

Graphics: OpenGL 2.0 compatible video card with 256 MB shared or dedicated RAM (ATI or NVIDIA)

Hard Drive: 700 MB available space
There have been no reviews