DG2: Defense Grid 2 RUS (Steam Gift)
Activation details
87%
DG2: Defense Grid 2 RUS (Steam Gift)
YOU WILL BE PROVIDED WITH OUR GAMEPYRO APPLICATION WHICH WILL ALLOW YOU TO EASILY ACTIVATE AND PLAY THE GAME WITH NO RESTRICTIONS.
Special Edition
Special Edition purchasers will receive the digital book, The Art of Defense Grid 2, plus the ebook, The Making of Defense Grid 2: The Complete Story Behind the Game by Russ Pitts, and "A Matter of Endurance" audiobook written by Hugo award-winning author Mary Robinette Kowal and performed by the English cast.

THE ART OF DEFENSE GRID 2 digital art book celebrates the talents and efforts of the people responsible for creating the visuals of the game. It is an insight of the concepts and variable directions that the team explored during the game's creation. The journey in visual exploration is a winding and strange path at times. This book revisits that journey, come along and enjoy it.

THE MAKING OF DEFENSE GRID 2 brings you behind-the-scenes of the creation of a modern video game.
Over nearly two years and hundreds of hours of interviews, veteran video game journalist Russ Pitts (Polygon, The Escapist) has been given total access to every stage of development, and dives deep into the technological innovation, creative artistry and hard-nosed business that combine over weeks, months and years to make a game.
From moments of startling inspiration to times of crushing stress, the author has been present for every aspect of production — major milestones, critical beta tests and sometimes contentious design meetings.

THE MAKING OF DEFENSE GRID 2 is based on the article series written by Pitts for Polygon, with expanded interviews and never-before-seen material. The result is a look unlike any other into the hidden world of game development and the high stakes gamble of making games.

A MATTER OF ENDURANCE: Written by two-time Hugo award winning author Mary Robinette Kowal and performed by the English cast, A Matter of Endurance is an audio play staring the characters from Defense Grid: Containment (AI General Fletcher, AI General Cai, and Commander Simon Ritter) and introduces Maralon's Governor Teydell as you (the Commander) and your AI companions journey from the destruction on Maralon to the destination of the Outer Colonies where the events of DG2 take place.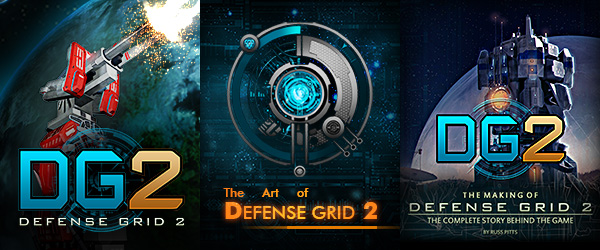 Defense Grid 2, DG2, is the highly-anticipated sequel to Hidden Path Entertainment's 2008 Defense Grid: The Awakening. Setting the bar as the definitive tower defense game, Defense Grid 2 introduces new worlds and threats to test your tower placement strategies. With a bold new look, a compelling single-player campaign, and the addition of new game modes, online player-versus-player and multiplayer co-op, every play-through brings fun new opportunities and challenges.

DG2 comes with a story campaign featuring 21 stunning maps, dynamic level movement, an expanded story and cast of characters, hundreds of challenge mode experiences, new multiplayer modes, a procedurally driven audio score and the ability for players to build their own levels. DG2 also introduces players to DG Architect on the PC, a level creation tool set connected to Steam Workshop where players can create their own unique levels to share and possibly even sell if selected.

DG2 for the PC was funded in part by Dracogen, a private investor after a 2012 Kickstarter campaign funded the original game's DLC, Defense Grid: Containment. DG2 is developed by Hidden Path Entertainment and published by 505 Games.
Minimum:
OS: Windows Vista, Windows 7, Windows 8.0, Windows 8.1

Processor: Dual core CPU 2.0Ghz or faster

Memory: 3 GB RAM

Graphics: DirectX 10 video card with shader 4 support and Passmark Video Benchmark of 160 or above such as the following: ATI Radeon HD3650 or better (HD3650-HD8000, RX200-RX300+) (Radeon HD 4200 and HD 4250 not included) NVIDIA GeForce 8600 or newer (8800, 9600-9800, or 100-700+) (GeForce 8600M not included) Intel HD Graphics 2500 or higher

DirectX: Version 10

Hard Drive: 2 GB available space

Additional Notes: DG2 requires a multi-core processor and at least 3 GB of RAM on your computer to run. DG2 relies on a DirectX 10.0 or later graphics engine which means it runs on Windows Vista, Win7, Win8, and Win8.1. DG2 will not run on Windows XP. DG2 requires a video graphics card or chipset that supports DirectX10, video cards made with current technology after November 2006 (up to 7 years old). Compatible graphics cards include any AMD Radeon graphics card with the "HD" or "RX" designation (HD2000-HD8000, RX200-RX300+), any NVIDIA card after and including the 8000 series (8000, 9000, 100, 200, 300, 400, 500, 600, and 700+ series), and any Intel graphics chipsets released on the GMA X3100 (2007) architecture and later (GL960, GM965, B43, Q43+, G41, G43, G45, GL40, GS40, GM43, GS45, Core i3 integrated graphics or later, Intel "HD Graphics" or later). DG2 requires Steam to run.
Minimum:
OS: OSX Lion (10.7.5) or higher

Processor: Intel Core 2 Duo Processor (2GHz or better)

Memory: 4 GB RAM

Graphics: Radeon 2400/GeForce 8600/Intel HD 3000 256MB+

Hard Drive: 2 GB available space
Minimum:
OS: SteamOS Machines

Processor: Dual 2.0Ghz CPUs or better 64-bit capable processor

Memory: 4 GB RAM

Graphics: NVIDIA, AMD or Intel graphics card with Open GL 3.1 or higher drivers for SteamOS

Hard Drive: 2 GB available space

Additional Notes: UEFI boot support
There have been no reviews
Sellers
Seller rating
Region
Price
Credit