Firefall: Digital Deluxe Edition (STEAM)
Activation details
31%
Firefall: Digital Deluxe Edition (STEAM)
Developer:

Red 5 Studios

Genres:

Action, MMORPG, Free to Play, Massively Multiplayer

Languages:

EN, FR, DE

Official website:

http://www.firefallthegame.com
DLC Premium Content
This pack requires the base game Firefall on Steam in order to play.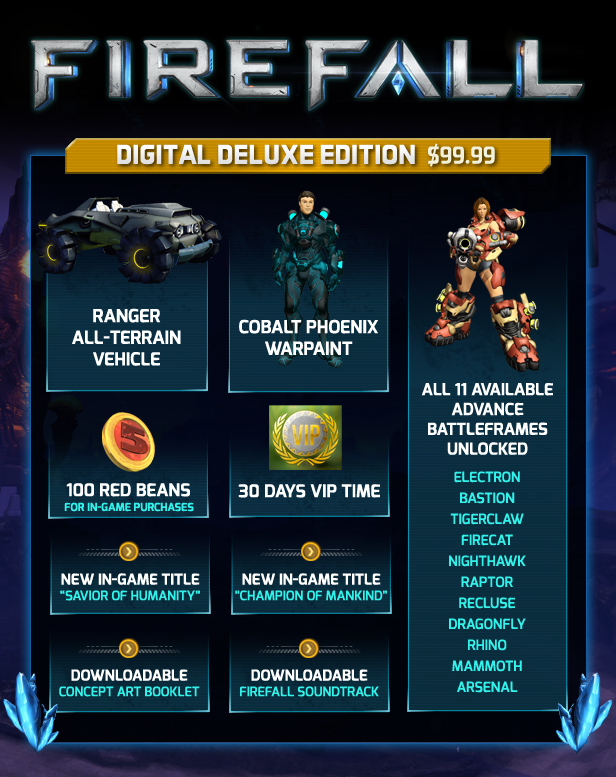 Begin your adventure in New Eden at the top of your class! The Digital Deluxe Edition includes:

Ranger All-Terrain MGV
• Ride in style with you AND a trigger-happy passenger!
• Exclusive to the Digital Deluxe Edition ONLY.

All 11 Existing Advanced Battleframes Unlocked
• Every single Battleframe that is currently available is unlocked.
• Experience the game anyway you like right from the beginning.

90 Days VIP Time
• +25% Earned Crystite
• +25% Earned XP
• +25% Earned Reputation Vouchers
• +2 Crafting Workbench Slots
• +8 Market Slots
• Access to the VIP Boosted Glider Pad

200 Red Beans
• Currency used to purchase additional in-game items and perks.
• Great for getting players started in New Eden.

Exclusive 'Cobalt Phoenix' Warpaint
• Exclusive warpaint color for your Battleframe!
• Look uniquely stylish while destroying the Chosen!

New In-Game Titles – "Savior of Humanity" and "Champion of Mankind"
• Exclusive in-game titles for digital packages!
• Titles that will drive fear into the hearts of the Chosen!

Downloadable Firefall Concept Art Booklet and Digital Soundtrack
• Digital Concept Art Booklet with gorgeous illustrations that showcase the world of Firefall.
• Digital Soundtrack with beautiful and haunting tunes for your listening pleasure.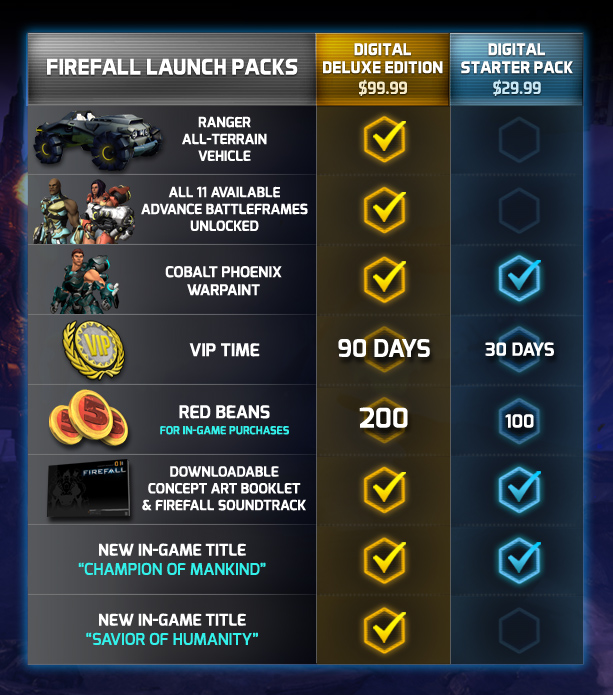 Minimum:
OS:Windows XP SP3

Processor:AMD Dual Core @ 2.6GHz; Intel Dual Core @ 2.2GHz

Memory:4 GB RAM

Graphics:Nvidia 8600 or ATI 4xxx with 1GB of VRAM

DirectX®:9.0c

Other Requirements:Broadband Internet connection
Recommended:
There have been no reviews
Sellers
Seller rating
Region
Price
Credit