One Piece Pirate Warriors 3 RUS (Steam Gift)
Activation details
53%
One Piece Pirate Warriors 3 RUS (Steam Gift)
YOU WILL BE PROVIDED WITH OUR GAMEPYRO APPLICATION WHICH WILL ALLOW YOU TO EASILY ACTIVATE AND PLAY THE GAME.
Pre-Purchase Offer
PRE-PURCHASE One Piece: Pirate Warriors 3 AND GAIN ACCESS TO EXCLUSIVE COSTUMES FOR LUFFY AND SABO!
Be one of the firsts to set sail to relive the story of One Piece and get exclusive access to a unique DLC pack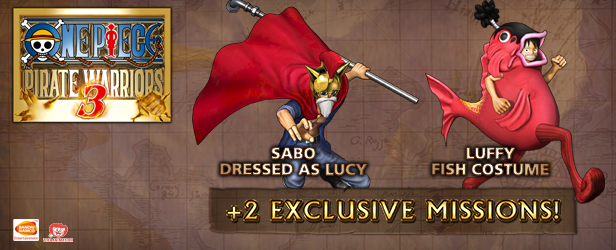 Including:
One costume for Luffy: Disguised as a giant fish to remain unnoticed in the kingdom of Dressrosa.
One costume for Sabo: Dressed as Lucy, the mysterious competitor fighting in Dressrosa's Colosseum
An exclusive pack of additional missions
BONUS! two costumes from One Piece Pirate Warriors 2 included
ADVENTURES OF LUFFY AND HIS STRAW HAT CREW ARE COMING TO PC!

Enjoy the original story of ONE PIECE from Fuschia village, where everything has started, to the kingdom of Dressrosa, a mysterious island dominated by the evil Donquixote.Doflamingo.

Will your resolution be strong enough to defeat the most dangerous pirates, including Doflamingo and many more?
Gather every member of the Straw Hat Crew, like in the original story, sail to the most emblematic places and enter the most epic battles: Marineford, Fish-Man Island, Punk Hazard and Dressrosa!

One Piece Pirate Warriors 3 brings you many exciting improved and new features, including:
Higher quality graphics and animation: the One Piece universe has never been depicted so faithfully
Number of Popular characters weaving the stories greatly increased: Sabo, Doflamingo, Fujitora and many more!
Improved gameplay and incredible new co-op actions (no Online Co-op)
More action than ever in the latest installment of the PIRATE WARRIORS series, created by KOEI TECMO GAMES and BANDAI NAMCO Entertainment.
Minimum:
OS: Windows 7 / 8 / 8.1

Processor: Core2Duo 2.4GHz

Memory: 2 GB RAM

Graphics: 512 MB Nvidia GeForce 8800 / ATI Radeon HD 3870

DirectX: Version 9.0c

Network: Broadband Internet connection

Hard Drive: 13 GB available space

Sound Card: DirectX® 9.0c or higher

Additional Notes: Game pad support
Recommended:
OS: Windows 7 / 8 / 8.1

Processor: Core i7 2600 3.4GHz minimum

Memory: 4 GB RAM

Graphics: 1.3 GB Nvidia GeForce GTX570 / 2.0 GB AMD Radeon HD 6950

DirectX: Version 9.0c

Network: Broadband Internet connection

Hard Drive: 13 GB available space

Sound Card: DirectX® 9.0c or higher

Additional Notes: Game pad support
1 Most useful customer reviews See all
Sellers
Seller rating
Region
Price
Credit