70%
Road Redemption RUS (Steam Gift)
Developer:

Epic Quest Games

Genres:

Action, Action-adventure, Casual, Indie, Racing, MMORPG, RTS, CMS, Early Access, Sports

Languages:

EN

Official website:

http://www.roadredemption.com
YOU WILL BE PROVIDED WITH OUR GAMEPYRO APPLICATION WHICH WILL ALLOW YOU TO EASILY ACTIVATE AND PLAY THE GAME WITH NO RESTRICTIONS.
Gamepad and Mouse & Keyboard Support

CinemaBlend Review!
"This is easily one of the best Early Access games I've played and ranks up there with Mercenary Kings and Space Engineers....It's bound to be a historic game when all is said and done."

Read the full review here: http://www.cinemablend.com/games/Road-Redemption-Early-Access-Impressions-Game-Righteous-67422.html
Ride as the Shovel Knight!
Courtesy of Yacht Club Games, The Shovel Knight is now one of the selectable characters in Road Redemption.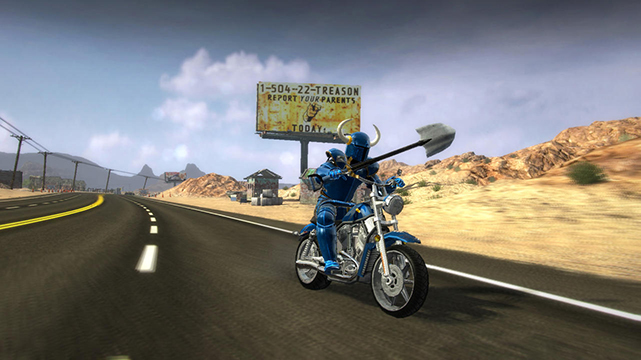 Lead your motorcycle gang on an epic journey across the country in this procedurally-generated driving combat adventure.

Earn money by completing races, assassinations, robberies, and other challenges in your path. As you collect loot, you'll upgrade your character, your bike, and your weapons.

One Life To Live

Driving a motorcycle at 100 mph while trying to hit someone with a pipe is dangerous, and death can come quickly. There are no extra lives nor continues. Fortunately, every time you die, all the experience you've collected can be used to upgrade your character, your bike, and your weapons.

In the multiplayer mode, you can work with your friends or fight against them. It's up to you.

A Truly Epic Quest

Road Redemption takes place in a post-apocalyptic America, ruled by a brutal dictator. Without telling anyone, your gang leader has decided to head to the capital on a desperate assassination attempt. When the government catches him, the consequences for your gang, and everyone you know and love, will be devastating.

It's up to you and your fellow gang members to race across hundreds of miles of dangerous highways in order to track down your derelict leader before the government does. What you do next is up to you. Do you try to stop him in order to protect your family and friends from punishment, or do you join him in a risky attempt at ending the oppression once and for all?

Other Features

Single Player Campaign with full 4-player splitscreen co-op (online support coming very soon).
Massive, expandable skill tree. Rack in the loot to upgrade your character, your bike, and your weapons.
A deep motorcycle fighting system with grabs, kicks, counters, critical strikes, and more.
Full support for both mouse & keyboard and gamepad control configurations.
Minimum:
OS: Windows XP, Vista

Processor: 1.4GHz processor or faster

Memory: 4 GB RAM

Graphics: DirectX 9-compatible graphics card with at least 512MB of video memory

DirectX: Version 9.0

Hard Drive: 1000 MB available space
Recommended:
OS: Windows 7, Windows 8

Processor: 2GHz processor or faster

Memory: 4 GB RAM

Graphics: DirectX 9-compatible graphics card with at least 1GB of video memory

DirectX: Version 9.0

Hard Drive: 2500 MB available space
Minimum:
OS: Mac® OS X 10.7 (latest version)

Processor: Intel® Core™ 2 Duo

Memory: 2 GB RAM

Graphics: NVIDIA® GeForce® 8600M GT or ATI™ Radeon™ HD 2600 Pro

Hard Drive: 1000 MB available space
Recommended:
OS: Mac OS X 10.8 (latest version)

Processor: Intel Core i3 or better

Memory: 4 GB RAM

Graphics: NVIDIA GeForce GT 650M or ATI Radeon HD 5670 or better

Hard Drive: 2500 MB available space
There have been no reviews
Sellers
Seller rating
Region
Price
Credit